Just in: UK house price fell in June for the fourth month in a row, as the coronavirus downturn hit demand.
Mortgage lender Halifax reports that house prices fell by 0.1% in June, following a 0.2% drop in May. This leaves the average house price around 0.9% lower than in the first quarter of 2020, before the lockdown.
On an annual basis, though, Halifax reckons prices are still 2.5% higher than in June 2019 (last week, its rival Nationwide reported that prices were slightly lower).
Halifax managing director Russell Galley reckons prices may keep dipping:



"The near-term outlook points to a continuation of the recent modest downward trend in prices through the third quarter of the year."
The housing market went into a temporary deep freeze under the lockdown, with estate agents, surveyors and potential buyers all banned from entering homes.
There are now signs that the market is heating up — Halifax reports that mortgage enquiries surged in June, with twice as many as in May.
The grim total of UK job losses since the Covid-19 pandemic began continues to rise – with media group Reach cutting hundreds of positions.
My colleague Joanna Partridge explains:



The owner of the Daily Mirror, Daily Express and Daily Star newspapers is to cut 550 jobs, 12% of its workforce, because of falling income amid reduced demand for advertising in its titles.

Reach, formerly known as Trinity Mirror, said its group revenue had tumbled by 27.5% during the second quarter, compared with a year earlier, as newspaper sales and advertising plummeted during the coronavirus crisis.

The company, which also owns hundreds of regional papers including the Manchester Evening News, Birmingham Mail and Liverpool Echo, said more people had been reading its products online over the past three months, but this was not enough to offset the loss in income.
Hospitality group Whitbread is the top faller on the FTSE 100 this morning, down 4%.
Whitbread told shareholders this morning that the reopening of its Premier Inn hotels and restaurants is "fully underway", but added that demand is 'subdued' in some areas.



It is still very early days and therefore too early to draw any conclusions from our booking trajectory, especially as there has been volatility in hotel performance in other countries that relaxed controls before the UK.

However, in traditional regional tourist destinations, we are seeing good demand for the summer months, whilst the rest of the regions and metropolitan areas, including London, remain subdued.
Whitbread also reported that total sales crashed by nearly 80% in the March-May quarter – when it was forced to shut virtually all its hotels in the UK and Germany.
The boom in China's stock market hasn't filtered round to Europe today.
All the main European indices have dropped in early trading, with the FTSE 100, Germany's DAX and France's CAC all down 1%.
The news that Melbourne is imposing a new six-week lockdown, after suffering a spike in Covid-19 cases, may be weighing on the City.
David Madden of CMC Markets says the markets are calmer after Monday's rally.



Stocks in mainland China built on yesterday's gains, but the upward move was more measured today. The Hong Kong market has handed back most of its earlier gains and it is now just about up on the session.

Australia is in focus as its central bank kept rates on hold at 0.25%, meeting forecasts. There is talk the state of Victoria might look to re-introduce a four week lockdown amid rising coronavirus cases.
We also have signs that Europe's economy has turned the corner, but faces a long journey back to normality.
German industrial output jumped by 7.8% in May, new figures show, led by a 27% surge in production of heavy-duty capital goods.
However, that's less than expected, following a record-breaking 17.5% plunge in output in April.
Interestingly, Chinese media are taking a rather calm tone today, reminding investors to be rational and mindful of potential risks.
That might pour some cold water on hopes of making a quick fortune in the stock market…..
The surge in Chinese stocks has also reminded IG's Salaheddine Bouhmidi of the 2015 bubble….
Bloomberg has spotted that searches for 'how to open a stock account' surged on social media in China on Monday, after the Securities Journal urged readers to join the 'healthy bull market'.
With shares rallying so hard this month , traders must be worried about missing out….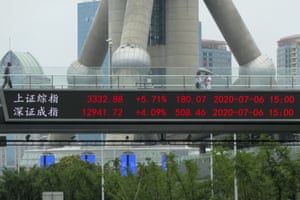 The Financial Times's China editor, James Kynge, reckons small investors should beware the recent leap in Chinese stocks, writing:



Stock price surges that are not accompanied by climbing industrial profits can end in tears.
He points to signs that investors are borrowing money to buy stocks (a common cause of stock market bubbles, as we saw in 1929…)



The outstanding margin debt — incurred when investors borrow to buy stock — on China's exchanges has risen to Rmb1.16tn ($164bn), the highest level since January 2016. Surging margin finance was also a hallmark of the early 2015 rally.

But keen to take a victory lap for becoming the first large economy to recover from Covid-19, China's state-run media was seeking to bask in the stock market's feel-good glow. "Hahahahaha!" said a story in the Shanghai Securities News on Friday. "The signs of a bull market are more and more clear."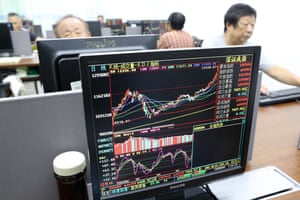 Good morning, and welcome to our rolling coverage of the world economy, the financial markets, the eurozone and business.
Is a stock market bubble building in China? After days of dramatic surges on the Shanghai and Shenzhen exchanges, stocks are now back at their highest levels since the notorious 2015 crash.
On Monday, the benchmark CSI 300 surged by 5.6%, its best day in over a year. It's gained another 1.5% today, driving stocks to their highest levels in over five years.
China's stock market is now UP 15% for 2020 despite the Covid-19 pandemic.
The rally appears to be driven by Beijing policymakers rather than simply by solid economic fundamentals. Several state-controlled media outlets have been urging the populace to buy equities, to share in China's economic recovery.
Yesterday, a front-page editorial in the state-run China Securities Journal declared boldly that investors cold look forward to "the wealth effect of the capital markets", thanks to the "healthy bull market" now building.
China's army of day traders have taken such talk seriously, piling back into stocks.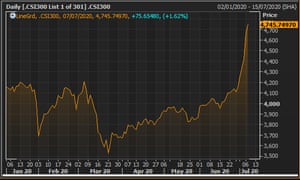 Jeffrey Halley, senior market analyst at OANDA explains:



Retail investors dominate China's equity turnover on the Mainland. With a closed capital account, and the Government managing most other investment avenues, China's savings surplus can really only flow into real estate or equities. It is thus, not a difficult challenge to mobilise the masses, by extolling them to "fill their boots" with equities.

The implication being, that if state media is telling them to, there is an implicit "letter of comfort," that the Government has their back. Much like the Federal Reserve is ostensibly doing these days, albeit in a less subtle manner.
But is it safe? Older heads can remember the turmoil of 2015, when a previous Chinese stock market boom ended in tears.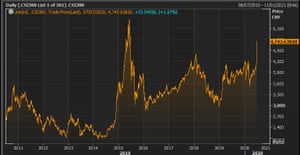 Bloomberg reports that some investors are urging caution:



Wang Hongyuan, the co-chairman of First Seafront Fund Administration Co., warned buyers need to be cautious.

China's equities have "the strongest fundamentals in the world" but the bubbles in some areas of the sector "are unseen in five years and the dangers are large," he reported in penned feedback shared with Bloomberg.
But….recent economic data from China has been encouraging — with services companies posting their fastest growth in a decade. So there are solid reasons to buy shares too.
Dai Ming, Shanghai-based fund manager at Hengsheng Asset Management, reckons that it's different this time….



"The market isn't flooded with money everywhere like last time. Beijing is still very prudent with its monetary policy."
China's rally has helped to push stocks up across the globe. After surging by 2% yesterday, European stock markets are expected to dip this morning.
Wall Street had a strong Monday too, with the Nasdaq hitting yet another record high as money surges into tech stocks.
The Agenda
7.45am BST: French trade balance for May
8.30am BST: Halifax survey of UK house prices in June
2pm BST: Raphael Bostic, the president of the Federal Reserve Bank of Atlanta, gives a speech