Time for a quick recap.
Another blizzard of economic data has shown that the world economy is being battered by the Covid-19 outbreak, but a slow recovery may
In the UK, factory and service sector bosses reported that activity remained very weak, with output slumping, new orders much lower than usual and unemployment up. But the pace of the decline did ease, with the composite PMI rising to 28.9, from 13.8 [50 = stagnation].
Economists warned that the recovery will be slow and bumpy, and unlikely to resemble anything like a V.
Eurozone companies reported a similar picture – with Germany coping relatively well and the periphery (including Italy and Spain) suffering a sharper slowdown.
In America, another 2.4 million people filed unemployment benefit claims — pushing the total number of jobs lost over 38m. The US PMI report also showed a slump in activity, but with some signs that activity is picking up as the lockdown eases.
Japan, though, reported that exports slumped by over 20% last month, which is the worst drop since the 2009 recession.
Investors are fretting that relations between the US and China are deteriorating, with Donald Trump accusing Xi Jinping of pushing a "disinformation and propaganda attack" on the West.
With China threatening to hit back, European stock markets ended the day lower.
Budget airline easyJet announced plans to resume domestic flights within the UK, and within France, as it tries to resume operations. Hotel operator Whitbread launched a £1bn cash call to shore up its finances and to expand through the crisis.
Here's our latest stories:
Goodnight. GW
That late selloff came after China threatened to hit back against America if it imposes sanctions over the coronavirus pandemic.
The spokesman for the country's parliament, Zhang Yesui, told reporters that Beijing would retaliate if the US introduced legislation last week to give Donald Trump the power to sanction China.
Zhang indicated that Trump was trying to cover up his own mistake over the pandemic saying:



"We firmly oppose these Bills, and will make a firm response and take countermeasures based on the deliberation of these Bills.

"It is neither responsible nor moral to cover up one's own problems by blaming others. We will never accept any unwarranted lawsuits and demands for compensation.
After a late stumble, Europe's stock markets have ended the day lower than they started it.
FTSE 100: down 51 points or 0.9% at 6,015
Germany's DAX: down 157 points or 1.4% at 11,065
French CAC: down 51 points or 1.1% at 4,445
Italian FTSE MIB: down 126 points or 0.75% at 17,087
Back in the UK, shoe retailer Clarks has joined the ranks of firms cutting jobs due to the pandemic.
More than 900 head office staff will go, as the Covid-19 lockdown hits sales hard, on top of the problems on the high street.
Our US business editor Dominic Rushe reports that some Americans have been struggling to sign on for unemployment benefit, due to huge demand:



Aya Rabbaa, 19, lost her job at an iHop restaurant in Madison, Wisconsin, eight weeks ago and only received her benefits three days ago. "I would call and hang on hold for hours or they would hang up," she said.

The college student relied on her wages to pay her expenses and said it had been a real struggle while she waited on the money. "They need to do something," she said. "People are hungry, people are stressed. Do we live in a third world country or what?"

Now Wisconsin is open for business again after its supreme court struck down the state's stay-at-home order. Rabbaa said she was worried about going back to work if and when the restaurant opens for business. "I'd go back but I am scared," she said. "It's still not safe. If I get it then the customers will get it and if they have it, I will get it."
After that positive start, the US stock market is turning south.
The Dow has now dipped by 193 points, or 0.8%, to 24,381. Oil has shed its early gains too, and European markets are in the red too as the closing bell approaches….
Bonds are strengthening, though, pushing the yield on British five-year debt below zero!
Our economics editor Larry Elliott says today's PMI reports show we face a long trudge back to recovery, writing:



Well, do you want the good news or the bad news?

The goods news – both for the UK and for the rest of Europe – is that the worst is over. April marked the bottom of the slump triggered by the response to the Covid-19 pandemic. Provided there is no second wave of infection (a pretty hefty qualification, admittedly) last month was as bad as it gets.

The bad news is that a return to pre-crisis levels of activity is a long way off and, as things stand, will be measured in years not months. There is more chance of spotting a yeti in the Himalayas than there is of a sighting of the equally elusive V-shaped recovery….
More here:
Just in: America's economy is suffering another slump in output this month as the Covid-19 downturn persists.
Data firm Markit has reported that the US economy is still contracting at a desperately sharp pace, although slightly slower than in April.
Its latest survey of purchasing managers found that production and new orders have tumbled at US factories. Service sector firms are suffering sharp falls in orders due to weak domestic and foreign client demand. Job cuts, unsurprisingly, were deep.
With things slightly less dire than in April, Markit's US 'composite PMI' has risen to 36.4, from 27.0 in April. That indicates another very sharp contraction (50 would be stagnation).
Markit explains:



Although the overall contraction in new business eased in May, it was still the second-steepest in the series history. Firms continued to report significant decreases in client demand as customers further postponed the placement of orders.

Service sector and manufacturing firms registered the second-sharpest reductions in new orders since the global financial crisis. Foreign client demand remained especially muted, with new export orders decreasing substantially and at only a slightly reduced rate compared to April as lockdowns associated with the virus pandemic persisted across key export markets.

Reflecting the further severe drop in new business, firms cut workforce members at a marked pace in May.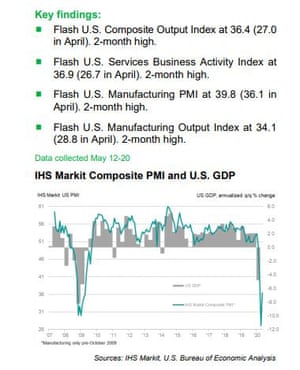 The initial claims figures, although bad, don't capture the full extent of the jobs lost in the crisis.
Another 2.2 million new claims were filed through the federal government's temporary Pandemic Unemployment Assistance program. It's designed to help gig economy workers, independent contractors and other self-employed workers, who might not be able file traditional jobless claims.
Wall Street is unperturbed by today's US jobless numbers.
The Dow has gained 57 points or 0.2% in early trading to 24,633 points, despite traders learning that another 2.4m Americans are now on the dole.
The S&P 500 is also slightly higher, having recovered a large chunk of its hefty fall in March.
In London, the FTSE 100 has shaken off its earlier losses and is up 17 points at 6084. Top risers include Rolls-Royce (+6%) after announcing 9,000 job losses yesterday, and AstraZeneca, which says it can manufacture 1bn doses of the University of Oxford's potential Covid-19 vaccine.
Back in the UK, workers at Royal Bank of Scotland are preparing to work from home for a while yet.
RBS told staff today that more than 50,00 of them (out of 65,000) won't return to the office until at least the end of September.
However, about 400 workers whose jobs include handling sensitive data have been asked to return to offices and call centres next month.
More here:
Several economists are concerned that America's jobless claims haven't levelled out faster: